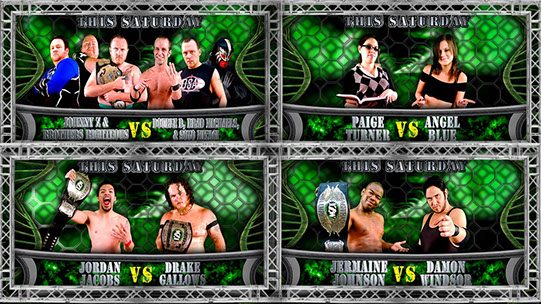 "IZW Adrenaline" returns this Saturday March 1and with "Coronation: A Decade of Impact" less than three weeks away, all bets are off. IZW Champion "The Natural Born Leader & Savior of Wrestling" Johnny Z (@NBL_JohnnyZ) made an impact at the expense of his greatest rival Double D (@IZWDoubleD) last week when Z crushed an already wounded D in the face with a Big Boot in the corner. What awaits the wrestlers that step into the squared circle this week?
Johnny Z picked apart Double D like a vulture after D was in a hellacious main event match with "The Old School Sucka" Randy Price (@RandyPrice_OSS) in which Price pile drove D full force down on the canvas. Z will be the first entrant into the Impact Chamber on March 1 and D is number 2. Z has always been able to slant the odds in his favor and that reality continues with his most recent actions against D. Z is stacking the odds once again as the biggest match of his career comes closer and closer. What will Z have in store this week? Right now, the biggest threat to Z's IZW Title reign looks to be Price who dispatched of Michaels in the parking lot last week and took out Double D in the center of the ring during the main event.
"The Image of Fear" Kevin Morgan (@TheImageofFear) is at his fiercest ever as he brutalized Soto Miyagi last week and looks to be the most ardent disciple of Johnny Z. Will Morgan try to pulverize yet another member of the Impact Chamber Match and increase Z's odds that much more? If Morgan is in the house you can bet pain and destruction are not far behind.
Team Bull [The Bronze Bull (@BronzeBull_AN) & "The Brass Bull" IZW Wrestler (@thegods_bs)] and What Wrestling Should Be ["Lights Out" Jordan Jacobs (@JacobsLightsOut) & "Larger Than Life" Jermaine Johnson (@JermaineAboutME)] continued their blood feud as last week Team Bull retaliated for the beating they received two weeks ago by WWSB where TB was destroyed with steel chairs. TB shattered WWSB into pieces as they used two iron ladders to bend, fold and break Johnson and Jacobs nearly in half! WWSB and TB are headed for a dangerous collision course, a TLC Match at "Coronation", but if things continue at this rate, neither team will make it to March 15.
Look for more stars to be out at the Impact Arena as IZW Impact Division Champion "The Urban Legend" Drake Gallows (@DG_urbanlegend) now has three Camachos to watch out for as "Big, Bad & Sexy" Angel Camacho (@A_Camacho0986) and Roberto Camacho now have recruited yet another cousin, Vinny Camacho. The Camachos are looking for a fight and if no one steps forward to accept their challenge they are just going to start one with whoever is closest.
"Bad" Brad Michaels (@OldSchool_Brad), "Big Business" Damon Windsor (@DamonWindsor) and "Worst in the World" Copycat (@CopycatWrestler) are chomping at the bit to get back in the ring. Look for these three men to come out of the gates on fire as they are looking to push back against Johnny Z, Impact Elite, Randy Price and more!
Get your shot of adrenaline with "IZW Adrenaline" every Saturday night at 8pm E/7pm C on GFL.tv. Better yet, if you are near Southwestern Oklahoma, nothing beats watching IZW live from the Impact Arena located at 1009 SW F Ave. in Lawton, Oklahoma 73501.
No other wrestling organization on the Independent landscape carves out as much new content as IZW. Developed and cultivated in the Sooner State, IZW is second to none. Be there for every bump, bruise and jaw-dropping moment all of which have made IZW recognized around the world.
Website: www.izwrestling.com
Twitter: https://twitter.com/IZWWORLD
YouTube Channel: www.youtube.com/IZWOklahoma
Facebook: https://www.facebook.com/ImpactZoneWrestling
© 2004-2016 Impact Zone Wrestling. All Rights Reserved.
Website designed and maintained by Wesley Bradfield