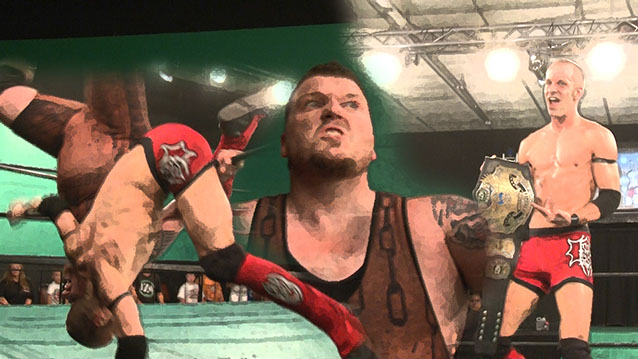 IZW Sudden Impact is May 17th and this week's edition of Adrenaline sent shockwaves through the IZW World on the path to Sudden Impact.
On another episode of Jordan Jacobs' Lights Out Lounge, IZW Co-Commissioner Shawn McHale set the precedent for the night as he addressed the live crowd in the Impact Arena. It wasn't long until IZW Champion Double D made his way to the stage and spoke his mind. He told McHale that he wanted a match against Kevin Morgan, to get revenge for the repeat attacks that Morgan has launched on the champion. McHale agreed on the conditions that it take place at Sudden Impact and it be for the IZW Championship. Double D quickly agreed and the main event for the next big IZW iPPV was set.
In the first of two first-round Impact Player of the Year Tournament matches, "The Resurrector of Reality" Striker took on one of the KC Wolves in Graham Bell. Striker had no interest in having a wrestling match with Bell as Striker immediately resorted to brawling to sway the match into his favor. Bell wouldn't go down easily, though, he utilized his lightning-fast speed to avoid Striker's offense and counter with a flying calf kick to get Striker in trouble. Graham drilled Striker's head into the mat with a driving knee but it was only enough for a two-count. Striker, feeling the momentum slipping away, quickly countered and hit his patented Stroke. Instead of going for the cover, Striker decided to put a cherry on the sundae by taking Bell to the top rope but Bell was able to escape, knocking Striker from the top and hitting a senton bomb for an upset win. Bell will be moving on to the second round in the Impact Player of the Year Tournament joining Jordan Jacobs and the other member of The Brothers Righteous, O'Malley.
Team Bull was back in the Impact Arena on this night, still glowing with confidence from their IZW Tag Team Championship win at Coronation. A new challenge presented itself though, in the form of The Sexy Camachos. Vinny & Roberto seem to have their sights set on the tag titles and looked to use this non-title match against Team Bull to prove that they're worthy of a title shot. What started out as an impressive dance-off between the two teams quickly got serious when Bronze Bull got tired of the games, snatched up Vinny and unceremoniously ejected him from the ring. Bronze Bull displayed why he is one of the most decorated IZW Superstars ever ad he took firm control of the match regardless of which Camacho was in the ring. Roberto Camacho was mocked by both Bulls as they repeatedly messed up his trademark curls. Some quick thinking and distraction of the referee allowed the Camachos to double team IZW Wrestler and get the upper hand in the match. An upper hand they would not hold onto for long as Starr would battle back and tag out to the Bronze Bull who came in ready to fight, he laid out both Camachos and when Bobby maid in back into the mix it was only a matter of moments before Team Bull hit a big one-two punch for the dominant win. However, the Camachos were not ready to go down so easily and attacked the tag team champs from behind, leaving Team Bull laying.
The first round of the Impact Player of the Year Tournament continued next as Luke Langley of the KC Wolves took on "Big Business" Damon Windsor. These two men showed great respect for one another shaking hands before the match with each knowing the importance of this opportunity. Both men started out showing off their particular skill set with Langley showcasing his speed and Windsor displaying his strength. Things started off quite friendly but as the match wore on both competitors showed what this match meant to them, fighting with all they had to get the win. Langley found his most success with calculated strikes and kicks but made the mistake of letting Windsor fight back to his feet and when Langley tried to stand toe-to-toe with big Business and Windsor responded with a clothesline that echoed throughout the Impact Arena and almost took Langley's head off. Windsor Tried put Langley away with the Big Time Slam but Langley wouldn't stay down. Battling back, Langley took Windsor's knee out and scored right on the chin with a super kick to the grounded big man. When that wasn't enough to keep Windsor down, Langley brought a flurry of strikes to Big Business but when he paused to get the crowd behind him Windsor snatched him by the throat and drove him to the mat with a chokeslam for the win. Now our semi-finalists are all set, Windsor joins, O'Malley, Jordan Jacobs and Langley's partner Graham Bell in the next round of the tournament.
In a disgusting display, Randy Price attacked Brock Landers in the back, upset about his loss to Landers last week. He demanded a rematch which was an ugly affair. Price punished Landers at every single opportunity, trying to redeem himself from last week. He blistered Landers' chest with knife-edge chops and battered him with punches and knees. The verbal assault was almost as bad as the physical one as Price screamed that Brock had no business being a wrestler. As Landers did his best to fight back, Price stopped it dead in its tracks and drove Landers straight down onto his head with his patented Piledriver 1-2-3. Price wasn't done though as he kept berating the fallen Landers. When Price started beating Landers with a steel chair, Impact Division Champion Drake Gallows rushed to the ring, saving Landers from even more punishment. Gallows revealed that he had been the one who had been training Brock Landers. He went on to say that he was teaching Landers the right way and if necessary, he would gladly teach Price the right way too.
Gallows set our main event in motion as he took on Impact Elite's biggest gun, Kevin Morgan. Morgan made a statement before even stepping in the ring as, on his way to the ring, he hit the Moment of Fear on Brock Landers. Morgan snatched the microphone away from announcer AnnaLynn Storm and went on to blame Gallows for starting the decline of Morgan's status by taking what was Morgan's Impact Division Championship. The Image of Fear, was in no mood to waste time and started an onslaught on the ribs and midsection of Gallows. Morgan wanted to make an example of Gallows as Morgan moves toward Sudden Impact and his match against IZW Champion Double D. The familiar screams of "Where's John?" filled the ears of Gallows and the IZW World as Morgan still in solely set on regaining the favor and then the leadership of his savior Johnny Z. Gallows, saw that he couldn't risk getting into a fist fight or a power struggle with Morgan and modified his gameplan with attacks that consisted mostly of momentum and throwing his entire body at Morgan. This fearless manner of offense found its success against the much larger Image of Fear. But Gallows could only go full speed for so long before he ran out of gas and when Gallows started to slow down Morgan took advantage. He tossed Gallows from one side of the ring to the other. The Impact Division Champion had a little left in the tank, though as he hit a pair of drop kicks which took Morgan off his feet. Gallows went for it all as he mounted the top rope Morgan stopped him, slung him from the top and planted Gallows in the center of the ring with the Moment of Fear.
Morgan has been a runaway locomotive ever since Johnny Z disappeared after Coronation. Now that he believes that regaining the IZW Championship for Johnny Z will trigger the savior's return, Double D may be facing the most dangerous Kevin Morgan we've ever seen. Not only is he finally focused toward one goal but in the Main Event at Sudden Impact May 17th Kevin Morgan has nothing to lose and everything to gain.
© 2004-2016 Impact Zone Wrestling. All Rights Reserved.
Website designed and maintained by Wesley Bradfield