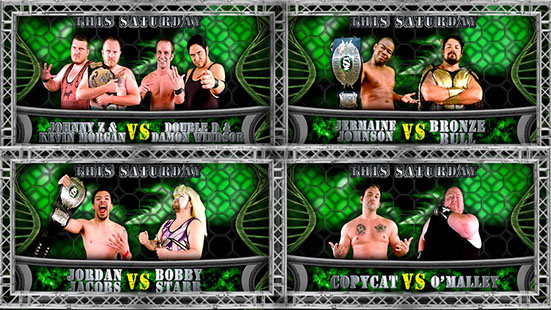 "IZW Adrenaline" returns this Saturday February 15 to GFL.tv with another pedal-to-the-metal episode of hard-hitting wrestling. All bets are off as IZW barrels towards "Coronation: A Decade of Impact" on March 15. The stakes continue to be raised as the Impact Chamber looms in the not too distant future.
The main event of the evening will be a tag team match featuring IZW Champion "The Natural Born Leader & Savior of Wrestling" Johnny Z (@NBL_JohnnyZ) & "The Image of Fear" Kevin Morgan (@TheImageofFear) versus "The Captain of the Force" Double D (@IZWDoubleD) & "Big Business" Damon Windsor (@DamonWindsor). All four men are entered in the 10-man Impact Chamber Match on March 15 so this bout could be a microcosm of what awaits them at "Coronation". Z is at his most dangerous when his back is against the wall and squaring off against 9 other wrestlers in just about a month's time has Z going to the extreme to exterminate his competition. Last week, Z caved in the faces of both Double D and Windsor with a Big Boot in the corner, and will look to take them out of the equation permanently with the help of Morgan in this week's tag team match. But going against the rested and recovered duo of D and Windsor will not be an easy task. All four men have history with each other and this bout will add another brick to their house of pain.
"Lights Out" Jordan Jacobs (@JacobsLightsOut) takes on "The Brass Bull" IZW Wrestler (@thegods_bs) in singles competition. These two grapplers have had some epic bouts in the past and this match promises to be the same as both men set the table for their clash at "Coronation" where WWSB will battle Team Bull in a TLC Match! Expect both men to look for any advantage that they can use in this match and more importantly carry over to the TLC Match on March 15.
In a parallel bout, "Larger Than Life" Jermaine Johnson (@JermaineAboutME) battles The Bronze Bull (@BronzeBull_AN). Johnson and Bull have feuded with each other for years and have taken decades off of each other's lives with the brutality that has taken place inside the squared circle. Very few wrestlers bring out the best in one another like Johnson and Bull. Look for that same pattern of violence to continue in this match.
In another hotly contested match, "The Forgotten Champion" Copycat (@CopycatWrestler) squares off against O'Malley (@IZWHateMachine). O'Malley and Striker have quickly established themselves as a force in the tag team division as The Brothers Righteous. It will be Copycat's chain wrestling and solid base against O'Malley's size, strength and understated athleticism. Don't blink when these two lock up as you will see some great wrestling.
In other news, Miss Diss Lexia (@missdiss_lexia) regained the Queen's Crown last week after defeating Madam Co-Commissioner Erica (@Lady_Of_Impact) with a slick backslide pin. The pin came out of nowhere, especially against a wrestler with an amateur wrestling pedigree of Erica. Expect Erica to have a thing or two to say about the outcome of that match.
Co-Commissioner Shawn McHale will also be in the house as well. The Impact Chamber still has two open spots that need to be filled. Will McHale let the IZW World know who the final entrants are? It's a Decade of Impact folks! Don't miss the final build up over the next few weeks where the rest of the card will be finalized and where history will be made!
Get your shot of adrenaline with "IZW Adrenaline" every Saturday night at 8pm E/7pm C on GFL.tv. Better yet, if you are near Southwestern Oklahoma, nothing beats watching IZW live from the Impact Arena located at 1009 SW F Ave. in Lawton, Oklahoma 73501.
No other wrestling organization on the Independent landscape carves out as much new content as IZW. Developed and cultivated in the Sooner State, IZW is second to none. Be there for every bump, bruise and jaw-dropping moment all of which have made IZW recognized around the world.
Website: www.izwrestling.com
Twitter: https://twitter.com/IZWWORLD
YouTube Channel: www.youtube.com/IZWOklahoma
Facebook: https://www.facebook.com/ImpactZoneWrestling
© 2004-2016 Impact Zone Wrestling. All Rights Reserved.
Website designed and maintained by Wesley Bradfield