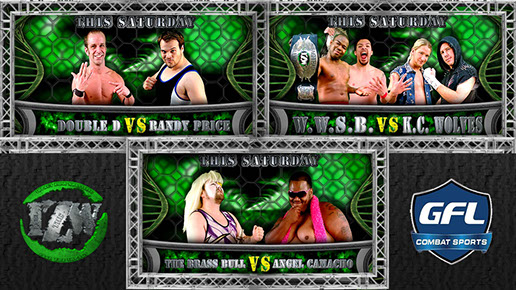 "IZW Adrenaline" returns this Saturday February 22 to GFL.tv. Almost everything is locked and loaded for "Coronation: A Decade of Impact" on March 15 but there are still a few issues to iron out. Don't miss one minute of action as gasoline continues to be poured onto the fire that is consuming each and every wrestler in IZW.
Last week, after the main event, What Wrestling Should Be ["Lights Out" Jordan Jacobs (@JacobsLightsOut) & "Larger Than Life" Jermaine Johnson (@JermaineAboutME)] decimated Team Bull [The Bronze Bull (@BronzeBull_AN) & "The Brass Bull" IZW Wrestler (@thegods_bs)] with chairs. WWSB destroyed Bull and Starr and after the fact made a point to gloat over their fallen opponents and let them know that the beating they just received was only a precursor to what they would endure in their TLC Match at "Coronation".
Before the WWSB beat down, in the main event, "Bad" Brad Michaels (@OldSchool_Brad) made an assist helping "Big Business" Damon Windsor (@DamonWindsor) & "The Captain of the Force" Double D (@IZWDoubleD) score the pinfall over IZW Champion "The Natural Born Leader & Savior of Wrestling" Johnny Z (@NBL_JohnnyZ) & "The Image of Fear" Kevin Morgan (@TheImageofFear) after Windsor finished Z off with a choke slam. Michaels made sure Z couldn't cut and run as he tossed Z back in the ring for the waiting Windsor.
Michaels is a wanted man these days as not only do Z and Impact Elite have him in their crosshairs but "The Old School Sucka" Randy Price (@RandyPrice_OSS) has made Michaels Public Enemy #1. After the walloping Price took last week going down from a Michaels superkick, you have to believe that Price will come back with a vengeance the next time he sees Michaels.
IZW Impact Division Champion "The Urban Legend" Drake Gallows (@DG_urbanlegend) and "Big, Bad & Sexy" Angel Camacho (@A_Camacho0986) have a date with destiny when they will face each other in less than a month in a Dog Collar Chain Match! Both men know the business side of brutality and odds are good that if they cross paths this week they will get a head start on their match at "Coronation".
Who will make an Impact this Saturday? WWSB set the tone for the rest of the locker room last week. Violent times are ahead for every wrestler who steps foot in the Impact Arena. For a stable like Impact Elite there is some comfort in numbers, but IE is by no means safe as a growing faction has drawn a line in the sand against them and ultimately will solve their differences in a steel cage, the Impact Chamber on March 15.
Get your shot of adrenaline with "IZW Adrenaline" every Saturday night at 8pm E/7pm C on GFL.tv. Better yet, if you are near Southwestern Oklahoma, nothing beats watching IZW live from the Impact Arena located at 1009 SW F Ave. in Lawton, Oklahoma 73501.
No other wrestling organization on the Independent landscape carves out as much new content as IZW. Developed and cultivated in the Sooner State, IZW is second to none. Be there for every bump, bruise and jaw-dropping moment all of which have made IZW recognized around the world.
Website: www.izwrestling.com
Twitter: https://twitter.com/IZWWORLD
YouTube Channel: www.youtube.com/IZWOklahoma
Facebook: https://www.facebook.com/ImpactZoneWrestling
© 2004-2016 Impact Zone Wrestling. All Rights Reserved.
Website designed and maintained by Wesley Bradfield