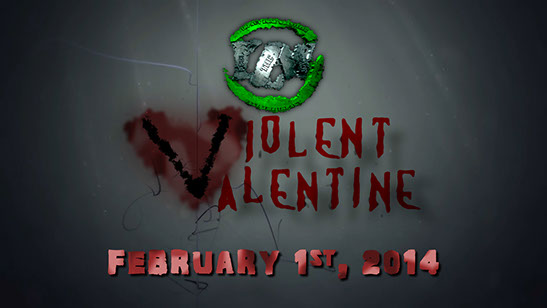 Shockwaves were sent through IZW as "Violent Valentine" was full of title changes, twists and turns and as always great wrestling. The main event ended in a way nobody saw coming and the power struggle for IZW is as fierce as ever as The Journey to Coronation begins with the February 8 episode of "IZW Adrenaline".
IZW Champion "The Natural Born Leader & Savior of Wrestling" Johnny Z (@NBL_JohnnyZ) was able to withstand the onslaught of "Bad" Brad Michaels (@OldSchool_Brad) as Z scored one of the more improbable victories in his IZW Title reign. Michaels had Z dead to rights with his second superkick of the match and had the pinfall in his pocket if not for the interference of IZW Official Randy Price (@RandyPrice_OSS). Price gave Michaels a piledriver and dragged Z's semi-conscious body over the top of Michaels and counted the pinfall himself! Z looked just as surprised and shocked as everyone in the Impact Arena but was happy to retain his title none the less. Expect all the fallout from what transpired in the IZW Title match this Saturday.
"The Captain of the Force" Double D (@IZWDoubleD) got his pound of flesh against "The Image of Fear" Kevin Morgan (@TheImageofFear) as D defeated Morgan in a Lumberjack Strap Match in which each man had the hide torn off his back from the debilitating and unforgiving leather strap that was used as an effective weapon by an assortment of lumberjacks. D looks primed and ready to take on Z and the rest of the competitors at "Coronation" on March 15 in the Impact Chamber where the IZW Title will be on the line.
"The Urban Legend" Drake Gallows (@DG_urbanlegend) regained the Impact Division Championship after a hard-hitting Impact Rules Match against "Big, Bad & Sexy" Angel Camacho (A_Camacho0986). The match was so violent that even IZW broadcaster Harrison Stone suffered a shattered ankle as he entered the ring to aide Gallows at one point as Stone tried to offset Camacho's cousin, Roberto Camacho, from interfering in the match. Everybody associated with this match took years off of their lives but in the end, Gallows was the alpha male in the match as the gold is now back around his waist and he is ready to take on all comers. All of the IZW World sends a special get-well-soon to Stone who even though he suffered a gruesome injury, remained calm, cool and collected and put his money where his mouth was and evened the odds just enough so Gallows could do what he does best and that's seek and destroy.
IZW Tag Team Champions What Wrestling Should Be ["Larger Than Life" Jermaine Johnson (@JermaineAboutME) & "Lights Out" Jordan Jacobs (@JacobsLightsOut) retained their titles against the KC Wolves, but their focus quickly changed to the returning duo of Team Bull. WWSB and TB already have a match set for "Coronation" in which WWSB puts up their gold and TB puts up their team. If WWSB wins in that sure-to-be classic, TB will have to disband forever! There's no telling what each team has in store for the other as the countdown begins this Saturday.
Get your shot of adrenaline with "IZW Adrenaline" every Saturday night at 8pm E/7pm C on GFL.tv. Better yet, if you are near Southwestern Oklahoma, nothing beats watching IZW live from the Impact Arena located at 1009 SW F Ave. in Lawton, Oklahoma 73501.
No other wrestling organization on the Independent landscape carves out as much new content as IZW. Developed and cultivated in the Sooner State, IZW is second to none. Be there for every bump, bruise and jaw-dropping moment all of which have made IZW recognized around the world.
Website: www.izwrestling.com
Twitter: https://twitter.com/IZWWORLD
YouTube Channel: www.youtube.com/IZWOklahoma
Facebook: https://www.facebook.com/ImpactZoneWrestling
© 2004-2016 Impact Zone Wrestling. All Rights Reserved.
Website designed and maintained by Wesley Bradfield