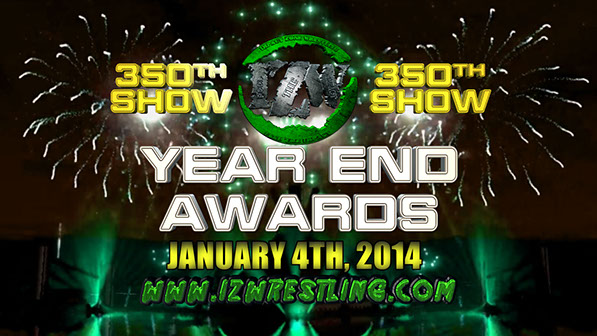 2014 is a time of new beginnings, a time for resolutions. But even in a world as crazy and extreme as IZW where change is the only thing that is constant, there is one fact that remains the same: Impact Elite is always at the head of the table. 2013 marked the most vicious display of dominance and control over a wrestling federation in history. Impact Elite essentially held the IZW World hostage for the better part of 12 months. In 2014, will Impact Elite continue to gorge themselves on the flesh of the other wrestlers in IZW or will 2014 be the year when Impact Elite hits rock bottom, falls into a grave and has dirt shoveled on top?
"Violent Valentine" is less than a month away and already IZW Champion "The Natural Born Leader & Savior of Wrestling" Johnny Z (@NBL_JohnnyZ) is trading barbs with his opponent, "Bad" Brad Michaels (@OldSchool_Brad). Just last month, Z and Michaels were on the same page as Michaels became the de facto hitman for Johnny Z in taking out Double D (@IZWDoubleD), not once, but twice. Michaels has shown that he's not going to take a back seat to Z in any regard leading up to their title match and even though they might share some similar values (having no compassion for their fellow man for one), Michaels understands the magnitude of what awaits him on February 1. Let the mind games begin as Z has Impact Elite to watch his back, while Michaels is a lone wolf. For now. Could we see the return of the Old School Assassins or Future Hall of Famers as Michaels looks to offset Impact Elite's huge army?
What Wrestling Should Be put the nail in the coffin of Team Bull, as The Convict did the dirty work for WWSB and absolutely destroyed "The Brass Bull" IZW Wrestler (@thegods_bs). With The Bronze Bull (@BronzeBull_AN) M.I.A., and Starr on the shelf for months if not years, who will step up to challenge WWSB for the IZW Tag Team Titles? There are a lot of bright young stars chomping at the bit, but you have to be more than hungry if you are going to defeat and more importantly, survive the dire consequences that you will face when taking on What Wrestling Should Be.
The Impact Division had one of its wildest years in 2013. On the final show of the year, Angel Camacho (@A_Camacho0986) became the new Champion after defeating "The Urban Legend" Drake Gallows (@DG_urbanlegend). Gallows invoked his automatic rematch clause for the title but did not say when that would be. Could Camacho and Gallows have their first face to face showdown of 2014 this Saturday? Stay tuned to find out.
Will the unhinged Striker (@strikerokb) be back to cause more hell? What about former IZW Impact Division Champion "The Image of Fear" Kevin Morgan (@TheImageofFear)? Both Striker and Morgan still have their respective points to make at the expense of the IZW roster. Striker started out his rampage by saying he needed to defend his daughter, but the violence has started to overshadow Striker's original intent and focus. Who does the "The Resurrecter of Reality" have in his crosshairs now? As for Morgan, he needs to get back to doing what he does best, kicking ass and taking names. Will Morgan try and insert himself back into the Impact Division title hunt or will he be content destroying and mangling bodies for the fun of it?
Get your shot of adrenaline with "IZW Adrenaline" every Saturday night at 8pm E/7pm C on GFL.tv. No other wrestling organization on the Independent landscape carves out as much new content as IZW. Developed and cultivated in the Sooner State, IZW is second to none. Be there for every bump, bruise and jaw-dropping moment all of which have made IZW recognized around the world.
Website: www.izwrestling.com
Twitter: https://twitter.com/IZWWORLD
YouTube Channel: www.youtube.com/IZWOklahoma
Facebook: https://www.facebook.com/ImpactZoneWrestling
© 2004-2016 Impact Zone Wrestling. All Rights Reserved.
Website designed and maintained by Wesley Bradfield