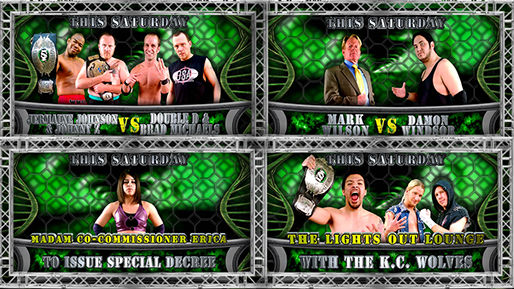 As the nights get colder and colder, the Impact Arena is on fire as the best Independent wrestling organization from the central states continues to burn the candle at both ends of the stick. "IZW Adrenaline" returns this Saturday, January 18 live on GFL.tv with another bone breaking show featuring the top pro wrestlers in the territory.
In the main event, "The Natural Born Leader & Savior of Wrestling" Johnny Z (@NBL_JohnnyZ) & "Larger Than Life" Jermaine Johnson (@JermaineAboutME) team up to take on "Bad" Brad Michaels (@OldSchool_Brad) & Double D (@IZWDoubleD) in a heated tag team match. Last week Michaels and Johnson had a fantastic match in which Michaels won but was battered after the match by Johnny Z. Double D rushed to the ring to even the odds as Impact Elite dodged a bullet and exited the ring. In the aftermath, IZW Officer Randy Price (@RandyPrice_OSS) booked the tag match for this week where a multitude of issues will be sorted out with fists, kicks, body slams and more. Michaels faces Z at "Violent Valentine" on February 1 for the IZW Title, an opportunity that he got because he defeated Double D two times in a row last year. Now Michaels and D have to find a way to work together if they are going to thwart the onslaught of Impact Elite. For Z and Johnson, it's just another day at the office for Impact Elite as they look to cripple Michaels' chances of defeating Z when all the chips are on the table while also softening up D who will face "The Image of Fear" Kevin Morgan (@TheImageofFear) in a Lumberjack Strap Match at VV.
Also on the docket for this week, "Big Business" Damon Windsor (@DamonWindsor) goes one on one against "The Butterscotch Stallion" Mark Wilson (@bsstallion). Last week, Windsor found himself standing side by side with Copycat (@CopycatWrestler) as the two clashed with the newly formed team of "The Resurrecter of Reality" Striker (@strikerokb) and O'Malley (@IZWHateMachine). Windsor needs to keep his head on a swivel while he is in the ring with Wilson because you can bet that Striker and/or O'Malley will be looking to finish the job they started last week as they attacked Windsor two on one. If that happens, will Copycat be in the house to even the odds once again?
Will the new #1 Contenders in the tag team division, the KC Wolves [Luke Langley (@LukeLangleyMD) & Graham Bell(@GrahamBellWPE)], show up to compete? IZW Tag Team Champions WWSB has completely disregarded the Wolves' chances of dethroning them on February 1, but that overconfidence could come back to haunt WWSB as the Wolves have a unique style that can match WWSB in athleticism and team work. Langley and Bell have steadily climbed up the ladder and flown under the radar. All of that is about to change as they are less than three weeks away from the opportunity of a lifetime.
Speaking of titles, it has been announced that "The Urban Legend" Drake Gallows (@DG_urbanlegend) will get his automatic rematch to regain the IZW Impact Division Championship at "Violent Valentine" when he faces new Champion "Big, Bad & Sexy" Angel Camacho (A_Camacho0986). Gallows and Camacho where neck and neck in voting for the Newcomer of the Year in 2013 and both men have bright futures in IZW. But there can be only one. Camacho has recently been spotted with his cousin, Roberto Camacho, who assisted on the win by Angel to claim the title in the first place. Will Gallows come to the Impact Arena prepared to square off against both Camachos? Will Gallows enlist the help of an associate to help him offset the unfair balance or will he put his chin down and come out swinging all by himself? Tune in this Saturday to find out.
Get your shot of adrenaline with "IZW Adrenaline" every Saturday night at 8pm E/7pm C on GFL.tv. No other wrestling organization on the Independent landscape carves out as much new content as IZW. Developed and cultivated in the Sooner State, IZW is second to none. Be there for every bump, bruise and jaw-dropping moment.
Website: www.izwrestling.com
Twitter: https://twitter.com/IZWWORLD
YouTube Channel: www.youtube.com/IZWOklahoma
Facebook: https://www.facebook.com/ImpactZoneWrestling
© 2004-2016 Impact Zone Wrestling. All Rights Reserved.
Website designed and maintained by Wesley Bradfield