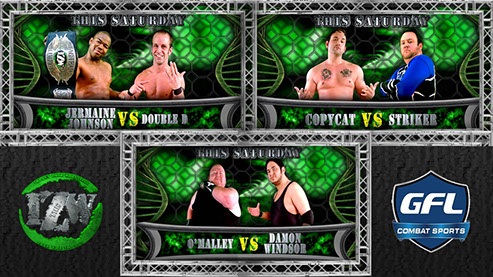 The go-home show of "IZW Adrenaline" is this Saturday, January 25 with the final 2 hours of action before the all-important "Violent Valentine" on February 1. You can bet with only seven days until all the belts are on the line that something huge is going to go down that could sway the balance of the matches at VV. Nobody is safe: Champion, challenger, comrades, enemies, all are on high alert for what awaits them at the Impact Arena.
"The Natural Born Leader & Savior of Wrestling" Johnny Z (@NBL_JohnnyZ) & "Larger Than Life" Jermaine Johnson (@JermaineAboutME) went down at the hands of "Bad" Brad Michaels (@OldSchool_Brad) & Double D (@IZWDoubleD) in last week's main event proving Z and Michaels one on one singles match on February 1 for the IZW Title is a pick 'em where anything can happen. Michaels has never looked better and he will be counting on his years as the Old School Assassin, one of the most accomplished wrestlers in Oklahoma, to get him past the unchanging IZW Champion, Johnny Z. What will these two have in store for one another in the final week before their blockbuster showdown at "Violent Valentine"?
After the match Double D also proved a point by leveling Michaels after the match was over, planting the seed in Michaels' head that if he wins the title, Double D will be hot on his heels. D takes on Johnson this week in singles competition so each man has one more opportunity to prove a point.
IZW Impact Division Champion "Big, Bad & Sexy" Angel Camacho (A_Camacho0986) took out Luke Langley (@LukeLangleyMD) while "The Urban Legend" Drake Gallows (@DG_urbanlegend) was able to knock off Graham Bell(@GrahamBellWPE). Both Camacho and Gallows are on a collision course that will shake the very foundations of the Impact Arena as they square off in one week in an Impact Rules Match for the Impact Division Title. Both wrestlers are hitting on all cylinders, but one of these men will be walking away with nothing on February 1. In fact, they might not be walking away at all seeing as the bout will be an Impact Rules Match. Can Camacho and Gallows raise the stakes any more than they already have for their highly anticipated showdown? Both men need to rest and let their bodies' heel for what will undoubtedly be a two man car wreck but the IZW World knows better. If Camacho and Gallows come across each other this week, they will get things started early.
The KC Wolves have to be licking their wounds as they were each defeated in singles competition and with a tag team match against WWSB looming in the near future, with the IZW Tag Team Titles at stake, they have to regroup quickly. Langley and Bell have already tweaked their game plan and have used their recent setback as motivation and a driving force to come out like bats out of hell at "Violent Valentine" against Jermaine Johnson and Jordan Jacobs.
Last week, "Big Business" Damon Windsor (@DamonWindsor) snuffed out the lights of "The Butterscotch Stallion" Mark Wilson (@bsstallion) but surely there has to be more important business for Windsor to attend to. That business will come in the form of taking on O'Malley (@IZWHateMachine). Windsor has vowed that 2014 will be the year when business picks up and he faces a tough test when he battles the newly rejuvenated O'Malley.
"The Resurrecter of Reality" Striker (@strikerokb) will also be in action as he takes on Copycat (@CopycatWrestler). Striker and O'Malley have formed a new team while Windsor and Copycat have also allied themselves out of necessity as they had to find a way to even the odds against Striker and O'Malley. Will Copycat show Striker what being the "Worst in the World" is all about?
Get your shot of adrenaline with "IZW Adrenaline" every Saturday night at 8pm E/7pm C on GFL.tv. Better yet, if you are near Southwestern Oklahoma, nothing beats watching IZW live from the Impact Arena located at 1009 SW F Ave. in Lawton, Oklahoma 73501.
No other wrestling organization on the Independent landscape carves out as much new content as IZW. Developed and cultivated in the Sooner State, IZW is second to none. Be there for every bump, bruise and jaw-dropping moment all of which have made IZW recognized around the world.
Website: www.izwrestling.com
Twitter: https://twitter.com/IZWWORLD
YouTube Channel: www.youtube.com/IZWOklahoma
Facebook: https://www.facebook.com/ImpactZoneWrestling
© 2004-2016 Impact Zone Wrestling. All Rights Reserved.
Website designed and maintained by Wesley Bradfield