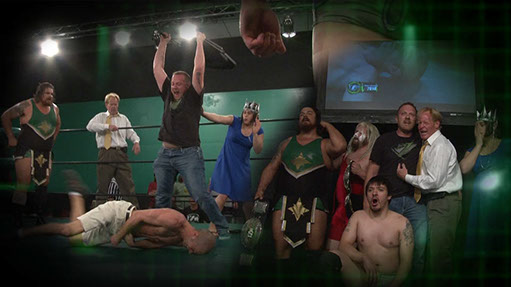 The echoes of Sudden Impact are still reverberating through the IZW World. But like the butterfly flapping its wings and causing a hurricane; Johnny Z's return is continuing to rock the landscape of IZW.
Shawn McHale addressed the IZW World at the beginning of the show with a message for Johnny Z. McHale said he was sick of Johnny Z only worrying about his own happiness and disregarding the feelings and well-being of the IZW production crew, the IZW fans and even the talent on the IZW roster. He called Johnny Z a spoiled little boy and said that his actions of late were despicable. It didn't take too long before "The Natural Born Leader" made his appearance. He simply stated that he didn't care about McHale's wants or needs and that as long as he's the owner things would be his way. He stated that the fans and that McHale needed to realize who was in charge. He went on to address the absent IZW Champion Double D saying that the years of fighting against D made Double D stronger but weakened Johnny Z. He said that he started to care what the IZW World thought of him and became the puppet of the fans and of Double D. But in falling into their trap he realized that he would never have their acceptance and praise and that he no longer cared. From here on out he would no longer be anyone else's puppet but everyone would now be dancing when he pulled the strings. As Johnny Z left the ring, Shawn McHale was speechless, left dumbfounded by the remorseless and callused words of the Natural Born Leader.
When Johnny Z finally allowed the show to begin, the attention would move to in-ring action as the Impact Division Champion Randy Price was set to take on former IZW Tag Team Champion The Brass Bull IZW Wrestler. Price showed great confidence, obviously still proud of his title retention at Sudden Impact. His arrogance was met with four big body slams from Starr. Randy fired back but a slew of Bull-Butts gave The Brass Bull full control of this match-up. As Starr climbed to the second rope, Price used his wits and yanked Starr's foot out from under him and Starr's head bounced off the mat. Price cinched in a gut-wrench and Starr again used elbows and Bull-Butts to fight back, Starr connected with a quick spear and mounted the top rope to hit his flying Bull-Butt but again Price shoved his feet out from under him and after Starr crashed to the mat below, Price hit the Splash from the Past and got the 1,2,3. This was another difficult loss for Starr after losing his tag team titles to the Sexy Camachos at Sudden Impact.
Next in action would be Angel Camacho taking on Damon Windsor in 1-on-1 action. Windsor and Camacho had words backstage after Windsor disrespected Angel's "primos" Roberto and Vinnie. This would be an especially challenging match for each of these men, who are used to having their respective size advantage. Windsor started off having some fun with Camacho, making fun of Camacho's ample weight and delivering chops to his protrusive chest. This only infuriated Camacho who showed impressive reserve and weathered Windsor's offense. Camacho took some big shots from Big Business but would not be taken off his feet. Camacho hit a clothesline that knocked Windsor down and Camacho took advantage, drive and dropping his weight onto Windsor and not allowing him to get back to a vertical base. Vinnie and Roberto got involved as well, striking and choking Windsor while the referee was distracted. Windsor avoided the running back splash in the corner and finally took Camacho down with a clothesline from the second rope. Windsor gained some momentum and was even able to lift Camacho up and connect with the Big Time Slam. But as Windsor was gearing up for the Chokeslam, Vinnie and Roberto jumped onto the apron. Windsor knocked them each back to the outside but the distraction was enough for Angel to get his wits about him and when Windsor turned back Camacho hoisted him onto his shoulders and drove him face first with the Landslide and picked up the victory.
O'Malley was in action next but not before laying out a sermon for the IZW World and in a shocking turn events, showed of a bloodied and beaten Striker. O'Malley explained that Striker walked too close to the edge and that there is no straying from the path of the Righteous. O'Malley stated that even though he now stands alone, the crusade of the Righteous will continue. O'Malley would take on The Bronze Bull, who was also feeling the sting of losing his tag team title at Sudden Impact. Bull was in a foul mood and brought the fight right to O'Malley. The two brawled in and around the ring, throwing heavy shots back and forth. Bull used his momentum and athleticism to rock the newly christened Reverend of Righteous. O'Malley bided his time and dropped Bull with a big back elbow. Bronze Bull fought back, even fighting from the outside of the ring and leapt over O'Malley for a sunset flip but O'Malley dropped his entire massive frame onto Bull's chest. O'Malley continued to exploit his weight advantage, stepping on his opponent's sternum and hitting a big splash across the ribs. At every turn O'Malley continued to put the Bronze Bull on his back. Then O'Malley reached into his knee pad and pulled out his infamous brass knuckles but referee George Knight caught him and discarded the illegal object. Howevre, as soon as Knight went to get rid of the knucks, O'Malley produced another pair from his other knee pad btu Bull snatched them out of O'Malley's hand and landed a huge discus punch that knocked O'Malley out cold. It was academic after that as the Bronze Bull covered O'Malley to get the win.
The latest episode of The Lights Out Lounge was bravely but thankfully interrupted by newcomer Jake "Sheepy" O'Brien. O'Brien said he had heard in his world travels that IZW was the place to make an impact and informed the IZW locker room that if any of them were looking for trouble he would help them find it. In fact, trouble was the name of his right hand. He told Jacobs that if Jacobs wanted to find trouble and count a few sheep, he need only to follow O'Brien to the ring. Jacobs obliged and we had an impromptu match on our hands. Jacobs started out violently, showing his frustration not only in being interrupted but also with not winning the Impact Player of the Year tournament at Sudden Impact. Jacobs pressed his advantage and countered Sheepy's attempted offense by dropping him throat first on the middle rope and driving his knees right into o'Brien's back. O"brien showed that he came to fight though, firing back and never staying on his back for long. He dropped Jacobs with a sidewalk slam, he delivered a body slam and an Irish Elbow Drop. Jacobs showed his ring savvy, regaining the upper hand and connecting with a sliding front kick followed by a vicious top rope senton splash. Jordan covered O'Brien who kicked out at 2.5 much to the surprise of Jacobs. Jordan went on to mouth with the crowd and when he went to inflict more punishment was caught with a massive right hook from Sheepy. Jacobs went down like a ton of bricks, O'Brien made the cover and just like that Sheepy O'Brien had a big victory in his IZW debut.
This brought us to our main event. The 2014 Impact Player of the Year Graham Bell of the KC Wolves wasted no time in invoking the title shot he earned at Sudden Impact. Bell and his partner Luke Langley would challenge the new IZW Tag Team Champions, Vinnie and Roberto, TheSexy Camachos. The Camachos won the tag titles in a 3-on-2 handicap match at Sudden Impact but The #1 Shawn McHale came onto the stage and let it be known that this match would be a fair fight and ejected Angel Camacho from ringside. This alone almost cost the Sexy Camachos the titles as the KC Wolves capitalized on the distraction and almost scored a surprise roll-up victory. The Camachos kicked out but found themselves in early trouble as the Wolves kept the pace fast, much to their liking. The Wolves made quick tags and connected with a series of lightning fast double team moves to Roberto. The Wolves looked to end it early and had Roberto in place for "Bad Moon Rising" when Vinnie saved the match by yanking Langley from off the top rope to the floor of the arena. This allowed Roberto to drop Bell and tag in Vinnie, who looked very impressive showing off skills we had not yet seen from the rookie. Vinnie controlled Bell with submission holds and controlled his positioning, making sure that Bell never got anywhere near close enough to his partner to make a tag. Now it was the Camachos wisely making quick in-and-out tags and landing devastating double team maneuvers. Graham did his best to fight back but Roberto utilized his size to ground him and Vinnie showed that he had been putting some serious studying into this match as he repeatedly was able to manipulate Bell, Langley and even the referee to make sure a tag was never made. Bell showed the resiliency that won him the Impact Player of the Year tournament as he kept kicking out after receiving all this punishment. The end was drawing near for Bell as Roberto Camacho went up for the signature Camacho tope-rope-splash. But all Roberto's weight came crashing down on nothing but canvas as Bell was able to roll out of the way at the last second and finally make the tag to Luke Langley. Langley was on fire as he came in the ring. He drilled Vinnie with two clotheslines and an enziguri. Roberto caught a lethal combination of strikes, capped off with a leaping diamond cutter. Vinnie tried to get involved from the outside but Graham Bell leapt through the ropes and sent him crashing into the steel guardrail. Bell slid back into the ring just as Langley narrowly escaped a samoan drop and shoved Robeto toward Bell. Bell jumped up, grabbed Roberto and drove him face first onto Bell's knees this set Roberto up for the facebuster/double stomp combo "Bad Moon Rising" and the IZW World stood on its feet as Luke Langley drove the double stomp into the back of Roberto and pinned him to win their very first IZW Tag Team Championship! The long hunt the KC Wolves have been on had finally come to an end and it would end with tag team glory… or would it?
As the KC Wolves celebrated their victory with the IZW World the familiar sounds of Johnny Z's music rang out through the Impact Arena. He said that the KC Wolves were very impressive and they had an amazing match but in his words "I don't care. I don't care what you want. I care about what I want and what I want is for this night to end with you NOT as my tag team champions. I have found a team to stand by my side. I have found a team that believes in me and right now you will defend those tag team championships against Team Bull!" Shock ran through the IZW World as IZW Wrestler and The Bronze Bull marched to the ring at the side of Johnny Z, the man they once despised. But Z wasn't done, he then announced that the match would be an No Disqualification match. Upon that announcement, Team Bull, Jordan Jacobs and even Johnny Z himself all jumped in the ring and started destroying the KC Wolves. All four men decimated the brand new champs and Team Bull covered their motionless bodies for an academic three count. Impact Elite, now two men and two championships heavier stood victorious in the ring, but they hadn't faced their last challenge of the night as Double D stormed to the ring. D cleared the ring of everyone but he couldn't keep his eyes on them all and the numbers game caught up to him. D was attacked by all members of the group and, in an eerily similar scene to Sudden Impact, Johnny Z absolutely destroyed D with dozens of vicious, violent chairshots to the back and injured ribs of the IZW Champion. The KC Wolves and Double D lay motionless in the ring while an unthinkable image stood over them, the image of Johnny Z and Impact Elite standing arm in arm with Team Bull. Johnny Z is on a maniacal mission to prove a point to the IZW World, he is here and he is going to do WHATEVER he wants WHENEVER he wants to do it. And if you don't like it… HE DOESN'T CARE.
© 2004-2016 Impact Zone Wrestling. All Rights Reserved.
Website designed and maintained by Wesley Bradfield