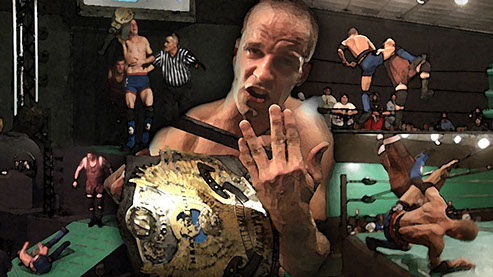 Two weeks away from Sudden Impact, momentum seems to be changing for the stars of IZW. The action started off hot as Impact Division Champion Randy Price took on Damon Windsor in the opening contest. Windsor and CopyCat survived an attack from the Brothers Righteous last week, time would tell if the effects of that attack would take their toll on Big Business in this match against one of IZW's best in Randy Price. Early attempts to match power with Windsor did not end well for Price as he was unceremoniously shoved off several times before taking time on the outside to regroup. Price tried to use speed but ran into a big boot and again was shoved to the outside. Price's frustration was all over his face as he tried to figure out a game plan. Price finally found some footing as he was able to reverse an attempted clothesline into a spinning neckbreaker that took Windsor down. Being the wise "Old School Sucka" he is, Price kept the match grounded, eliminating Windsor's size advantage. Price connected with a clothesline in the corner but was thrown off going for the follow-up bulldog. Price used his quickness to move out of Windsor's way, sending him chest first into the turnbuckle but tried to hit Windsor with a suplex which Windsor reversed into one of his own. This took a lot out of Windsor though as Price made it to his feet first and kept the attack on Windsor, trying to wear him down. Windsor battled back, stopping a Splash from the Past by hurling Price from the top rope. But as Windsor looked to hit his Chokeslam to seal the deal, the Brothers Righteous pulled him from the ring and started pounding on him. They drove his head into the steel steps before throwing him back in the ring. Striker hoisted Windsor up and O'Malley drilled Windsor with his infamous brass knuckles. Windsor was out like a light but that didn't stop the Brothers Righteous from pulling him back up and delivering the Wrath of the Righteous to send Windsor a serious message. The Brothers Righteous intend to end CopyCat and Windsor May 17th at Sudden Impact.
Striker and O'Malley were not done spreading the word of the Righteous. As next up, "The Resurrector of Reality" Striker would take on the mysterious man from the Orient, Soto Miyagi. Miyagi started quickly with his trademark kicks to the thighs and calves. These were momentarily effective but Striker's huge punches proved too much for Miyagi to hang with. Striker took control and threw Miyagi all over the ring, imposing his will as well as his Righteous theology. Quick movements from Miyagi allowed him to gain the advantage and he climbed to the second rope and delivered 10 chops and a dropkick to take Striker off his feet. But it wouldn't be long before Striker would use a double leg takedown to regain control and drop a stomp to the gut and a devastating knee to the skull that almost put Soto away. Soto had one last rally in him though, as he ducked two clotheslines and connected with a knee strike to the chin of Striker. With Striker dazed, Soto measured him and leapt up for the Sorana, however Striker ingeniously countered falling backwards and driving Soto face first into the top turnbuckle. It was elementary at that point as Striker drove Miyagi down with the stroke to score the victory. This may be the most vicious and focused we've ever seen Striker. With O'Malley by his side and the Righteous doctrine in his heart, the Brothers Righteous look to be a very dangerous force.
We got the chance to hear from all four participants who will be in the 20 Minute Impact Division Championship Scramble Match at Sudden Impac t. Luke Langley confronted Randy Price, each man claiming they would walk out of Sudden Impact as the Impact Division Champion. They were face to face when Angel Camacho butted in and told them they both talk too much and the Impact Division Championship would look great on his Big, Bad and Sexy shoulder. He was interrupted by the former champion "The Urban Legend" Drake Gallows. Gallows laid it out clearly to all three other men, not only what it means to be in the Impact Division but what it means to be an Urban Legend. Gallows explained that he would use all the tools that have earned him his reputation; things like chairs, tables, and even thumbtacks. He warned them that if he had to jump from the top of the Impact Arena again to regain his title, he would. He left all three other competitors with one question, he said he wasn't scared of the chaos that Sudden Impact would surely bring but were they?
Our next stop on Adrenaline would be another episode of Jordan Jacobs' Light Out Lounge. Again Jacobs promised the IZW World that his special guest would be The Natural Born Leader Johnny Z. This time, in a strange scene, Jacobs would put on the robe of the Savior of Wrestling and impersonate Johnny Z. Jacobs was in the midst of interviewing himself as Johnny Z when Kevin Morgan came through the curtain. He snatched up Jacobs and threw him across the stage into the lounge chair on the LOL set. Kevin did not appreciate Jacobs' impersonation of the man who Kevin has been searching for ever since Coronation. Kevin grabbed the microphone and stormed to the ring. Morgan said he was tired of people toying with his emotions. Week after week Johnny Z's music has played but The Natural Born Leader never stepped through the curtain. Once it was Damon Windsor, another time it was Drake Gallows and a third time no one took responsibility for playing the music. This brought out, of all people, former IZW official Brock Landers. He stated that he was still an aspiring IZW superstar and in his days as an official he made a lot of friends in the back. Those friends included people in the production area. He went on to say that it was he who had played Z's music the time no one came out, obvious retribution for the time Kevin Morgan attacked Brock Landers in the back stage area. Kevin didn't even let Landers finish before challenging him to a match. Landers accepted and our next match was under way.
Morgan immediately took it right to Landers, throwing him from one end of the ring to the other. Landers wouldn't go down without a fight though, he fired back with a flurry of kicks and punches before being dropped by a single uppercut from the much larger Morgan. Morgan missed a clothesline in the corner which gave Landers the opportunity to land several more quick strikes before hitting the ropes and charging Morgan with a head of steam only to be clotheslined to the mat. Morgan picked Landers off the mat with one hand and then raised Landers into the air and drove him down with a two-handed chokebomb. This would probably have been enough to put Landers away but Morgan put the icing on the cake with The Moment of Fear before pinning him. The Image of Fear wasn't done though and he hit two more Moments of Fear before hoisting him up for a third. This brought out the IZW Champion Double D who took the fight right to Morgan trapping him in the corner and delivering a series of knees. Morgan blocked the final knee and powerbombed the hell out of the IZW Champion. Morgan then dropped D's ribs first onto the steel guardrail and twice into the steel ring post. Morgan threw D back in the ring and delivered a Moment of Fear to do even more damage.
The other member of the Brothers Righteous, O'Malley would be in action next as he took on one half of the IZW Tag Team Champions IZW Wrestler. O'Malley weathered a barrage from Starr and hit a big body slam and looked to end it early with a senton but Starr rolled out of the way. Starr tried to capitalize with a body slam of his own but O'Malley's size prevented it and O'Malley immediately went after the weakened back of Starr. He draped The Brass Bull over the ropes and delivered some gruesome crossface strikes. Starr fought back with a series of headbutts but was cut off by a running headbutt from O'Malley. O'Malley continued to preach the word of the Righteous as he clubbed and chopped away at The Brass Bull. Repeated attempts from Starr to fight back to his feet were thwarted by the size and power of O'Malley. This wouldn't stop the fight in Starr as he continued to use his war-hardened head to daze and disorient his large opponent. Starr fought to his feet and took O'Malley down with a flying clothesline and scored from the top with a diving headbutt which got him extremely close to a victory but O'Malley escaped the pin at the last split second. Starr tried to whip O'Malley to the far corner but O'Malley's girth allowed him to reverse and charge in with a splash. At the last moment, Starr moved out of the way and rolled up O'Malley for a 3-count! The Brass Bull certainly embodied the expression "Using your head" as he used his not only as a weapon but also to outsmart O'Malley and pick up the victory.
In our main event, we would see the IZW Champion Double D go head to head with the man who may the favorite in the Impact Scramble, Angel Camacho. Camacho treated to a very unwilling IZW World to some "sexy" dancing before the match. As the IZW Word called out for the Captain of the Force, Double D's music hit but it took D quite a while to break curtain and when he did, the reason was apparent. D had his ribs heavily taped, due to the attack earlier from Kevin Morgan. D proved early why he is the IZW Champion, not only in simply appearing in the match rather than forfeiting, but also in allowing Camacho to try to end things early. Camacho charged D on two consecutive occasions and D moved out of the way. D then lit up the chest of Camacho with Force chops that took the big Puerto Rican down. D mounted the top rope and came off with his high Cross Body but found only the outstretched knee of Camacho. This did even further damage to the already hurting ribs of the champion. Camacho wisely applied a vicious body scissors to try to break the ribs of D. D escaped the torturous hold and connect with a series of kick, followed by a hurracanrana that took Camacho off his feet. A headbutt to the gut stopped D's momentum cold. It was then that Camacho got nasty, unraveling the tape across the ribs of D, worsening the effects of the injury and making it even harder for D to breath. D battled back and went for his wheelbarrow facebuster but Camacho clamped on a bear hug and it looked like it might be over for the IZW Champion. D refused to quit so Camacho threw him halfway across the ring with a huge overhead belly to belly suplex and dumped him on his head with a sinister German suplex but still D refused to give in. Even as he was stretched over the knee of Camacho he flat out refused to quit. A frustrated Camacho would miss a clothesline and D capitalized dropkicking Angel from behind sending him chest first onto the middle rope. With all the energy he could muster, Double D connected with the 6-1-Knee which rocked Camacho. As Camacho tried to get back to his feet, Double D was waiting, perched on the top rope and come off with the High Cross Body. The move did damage to D's ribs as he connected but he was able to scramble over and make the cover on Camacho to get the win.
Double D has been a fighting champion ever since winning the title at Coronation and has taken the fight straight to Kevin Morgan and Impact Elite at every turn but this heroic and valiant mindset may end up costing him in the long run as these battles week in and week out have taken their toll on the champion. It's almost a certainty that D won't be 100% when he faces Kevin Morgan at Sudden Impact. Uphill battles are nothing new for the Captain of the Force but he'll need to feed off the energy of The Force more than ever to overcome the Image of Fear.
© 2004-2016 Impact Zone Wrestling. All Rights Reserved.
Website designed and maintained by Wesley Bradfield