Watch this episode of Adrenaline at the bottom of the page!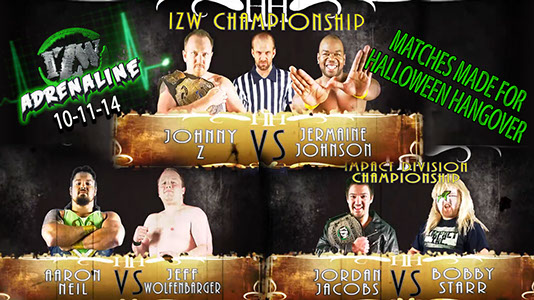 Sometimes it's difficult to tell whether IZW Co-Commissioner Mark Wilson is a mastermind or a madman. A good case for both could be made based on the bombshells he dropped on this edition of Adrenaline.
Wilson was in complete control of things due to his actions that were caught by the IZW camera crew. A video was shown at the top of the show that depicted Mark Wilson attacking Shawn McHale and throwing him into the back of a vehicle that then sped off into the night. This was eerily similar to what happened to Michael Barry, a man we haven't seen in the Impact Arena since. Who knows when or if we'll see or hear from the #1 again? In McHale's absence Wilson allowed Damon Windsor to exact a bit of revenge against his former partner Kevin Morgan. Windsor would deliver the message that Morgan would be defending his two IZW Tag Team Championships but not in a traditional tag match, in a handicap match. And it would be against the recently reunited and rebranded Old School Studs. Morgan is a beast as held his own in the contest perhaps better than anyone else could have but in the end the veteran instincts of Gary Tool and the athleticism of Randy Price won out and the Studs were able to walk away as the new IZW Tag Team Champions. Morgan, furious at the situation, stormed backstage and demanded a match with Windsor at Halloween Hangover. Mark Wilson refused saying that Windsor was busy in the Monsters Bash. When Morgan demanded a spot in the Bash Wilson set up a match between Morgan and Windsor in the main event and if Morgan won he'd be entered into the Monsters Bash but if he lost he would be out and not get a chance to become number one contender to the IZW Championship.
Wilson was just getting started for tonight. When Johnny Z went out to answer a challenge from Jermaine Johnson who demanded a rematch for the IZW Championship at Halloween Hangover, Wilson sent out the troops and all of Impact Inc began destroying the Leader of the Hype Section. That is until Double D hit the ring, steel chair in hand. He cleared all of Impact Inc from the ring as Johnny Z barely escaped a chairshot from D. In all the chaos Mark Wilson got another bright idea. He said that it was obvious that no matter how many times Jermaine Johnson failed to capture the IZW Championship, as long as Double D kept interfering, it would never be settled that Johnny Z was the better competitor. Then he shocked the IZW world by saying that not only would Jermaine Johnson get his rematch at Halloween Hangover but Double D would get the best seat in the house as he would be the special guest referee! D immediately looked completely disinterested and had a few unkind words for Wilson but Wilson let him know that if D didn't properly referee and count the three for the victor… he would be in breach of contract and be fired!
In a matter of moments Mark Wilson completely changed the outlook of Halloween Hangover. But he wasn't quite finished yet.
In the main event, Impact Inc's facilitator Damon Windsor punished an already worn down Kevin Morgan. Morgan demanded the match and Windsor wasn't too happy when it was made but once he realized the toll the opening match had on the Image of Fear, he seemed much more confident. His confidence would be shaken though, as no matter what punishment he laid upon Morgan it just seemed to further enrage him. Morgan kept fighting but went for a spear and got caught with the Big Time Slam. Windsor covered his former partner to finally get the validation of a win over Morgan but Morgan kicked out! Morgan 's kick out was clearly on instinct as he was unable to mount a counter attack and as Windsor wrapped his hand around Morgan's throat, The Image of Fear lifted Windsor 10 feet in the air and drove him down with the Moment of Fear. Morgan made the cover and secured his spot in the Monsters Bash! And that's when Mark Wilson dropped yet another bomb. He stated that Morgan would indeed be in the Monsters Bash at Halloween Hangover but since he was the one making it official, Wilson made sure to enter him in as number one! Morgan will literally have to go through the entire IZW roster just to get a chance to get revenge on Johnny Z. Stranger things have happened and if anyone can do it it's The Image of Fear but the Monster Bash is a game of Numbers and the odds are certainly stacked against Kevin Morgan November 1st.
© 2004-2016 Impact Zone Wrestling. All Rights Reserved.
Website designed and maintained by Wesley Bradfield