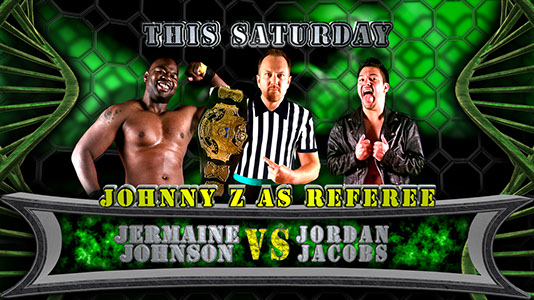 The final edition of Adrenaline leading into Redemption was driven by one thing…Impact Inc doing everything in their power to make a statement of dominance. The main event would be a flexing of Johnny Z and Mark Wilson's power as they would force best friends Jermaine Johnson and Jordan Jacobs to go one-on-one to determine the true number one contender to Z's IZW Championship.
But we wouldn't have to wait until the main event for Impact Inc to make their presence known as Impact Inc's facilitator "Big Business" Damon Windsor would start the show off with a message to the IZW World. He assured them that, despite the altercation a week prior, he and Kevin Morgan would come together as a team and remain friends and tag team champions. This brought out Kevin Morgan to speak his mind. Morgan said they were partner and they were friends but that was all over and that he was going to tear Windsor apart at Redemption for costing him his opportunity at Johnny Z and the IZW Championship. Windsor left the ring before things got physical but sensed that Morgan was tense and needed to relieve some stress so he conferred with Mark Wilson and made Morgan's scheduled match against Randy Price start right now.
Even though Morgan was caught off guard by the timing of the bout, he seemed ready to take the fight to Price. Morgan utilized his upright striking style to weaken Price but the Old School Sucka went after the previously injured arm of Morgan and took away the majority of his offense. Even when Morgan would be able to counter a move by Price his weakened arm wouldn't allow him to take advantage of the opening. Price went to the top for the Splash from the Past but Morgan rolled out of the way and connect with a spear that almost cut Price in half. With one good arm Morgan scooped Randy up and hit an Oklahoma Stampede and finish it off strong with a Moment of Fear. It was too much for Price to recover from and Morgan picked up yet another big win rolling into Redemption.
Looking to not be shown up by his tag team champion partner, Damon Windsor would step in the ring next against one of the five men who will vie for the Impact Division Championship at Redemption in Jake "Sheepy" O'Brien. The two men circled up and went to lock up but as they did the Impact Arena went black. This has been the signature entrance of Kevin Morgan for months but when the lights came up there was no Morgan. Windsor was perplexed by the absence of the Image of Fear and turned around right into "Trouble" from O'Brien. Windsor went down like a ton of bricks and Sheepy picked up a huge win on his way to Redemption. Morgan seems to be sending a message to the supposed "brains" of his championship team that he can play mind games with the best of them.
Up next was two men who have done battle more times than they can count in the Impact Arena, Angel Camacho and Impact Division Champion Drake Gallows. Camacho has been off training and has dropped about 30-35 pounds of his massive frame. He has been focused on nothing but returning to IZW and regaining his Impact Division Championship he never got his rematch for. The slightly lighter Camacho seemed to benefit from the lighter load as he seemed more nimble and agile than he was before he left. However he was just as vicious and good at throwing his weight around as he ever was. After trying to take the offense directly to Camacho, Gallows changed his gameplan and goaded Big, Bad and Sexy into making a mistake. Camacho was coming off the top for the Big, Bad and Sexy Splash when Gallows caught him in the midsection with a stiff dropkick, winding the big man. Gallows went up for his Bangarang Moonsault but was shoved from the top by Randy Price who caused the disqualification. Camacho and Price were doing the qite a number on Gallows when SHeepy O'Brien joined the fight and laid out both Price and Camacho with Trouble. Will this be the scene at Redemption? Will the presence of another fighting Irishman in the Brother Righteous O'Malley cause O'Brien's luck to run out?
In an attempt to redeem himself and avenge the legacy of Johnny Z, Damon Windsor volunteered to take on Jeff Wolfenbarger and teach him a lesson for using Johnny Z's "Final Impact" neckbreaker a week earlier. Windsor attacked Wolfenbarger while he was talking to the IZW World but Wolfenbarger turned the tables, getting the best of Windsor with a series of shoulder blocks and almost hit the Final Impact early. Windsor escaped and used his power and size to get things going in his favor. He pummeled Wolfenbarger for what he called "disrespecting" the Natural Born Leader. Windsor gained firm control of the match but lost his focus jawing with the IZW World and Wolfenbarger took advantage, evading a clothesline and hitting several splashes and a flurry of punches. Unfortunately referee George Knight got caught in the action between the two and got sandwiched in the corner. Windsor wasted no time kicking the attorney low and setting him up for a chokeslam when again the arena again went dark. When the lights returned Windsor had his focus locked on Wolfenbarger as he was determined not to get fooled by the same trick twice. Unfortunately for him, standing directly behind him was The Image of Fear who leveled his partner with The Moment of Fear. Wolfenbarger seized the opening, hit The Final Impact and got a big win. Wolfenbarger showed big time resiliency which he will definitely need heading into his match at Redemption with The Bronze Bull Aaron Neil.
In our main event it was the match fans hoped would headline Redemption as Jermaine Johnson would take on Jordan Jacobs to see who would go on to face Johnny Z for the IZW Championship. But before things could get kicked off, there was even more shenanigans by Impact Inc. We already knew that Johnny Z had made himself the special referee but we were informed that Damon Windsor would be guest ring announcer and Mark Wilson would be guest timekeeper. This was a transparent ploy to make sure the match would go exactly as Z and Impact Inc wanted.
The match started out as two competitors trying to get the best of each other with a series of wrestling maneuvers, reversals and technical moves. There was only one problem… Johnny Z wouldn't count in any fair fashion. Any time Johnson was in jeopardy of losing his count was extremely fast and any time Jacobs' shoulders were down the count was incredibly slow. It quickly became obvious that Z wanted no part of Johnson at Redemption and that the fix was in to make sure that Jacobs ( a man that Z has a size advantage over) was the man who would move on to Redemption. Both Jacobs and Johnson protested and showed their displeasure with Z's officiating. Both men wanted a fair contest and continued to try to give the fans the match they paid to see but Z refused to be impartial and clotheslined Johnson and threw him to the outside where Windsor and Wilson put the boots to him. Then dropped both competitors and threw Jacobs out to get the same treatment. Both men cornered Z but were unable to retaliate as they would be disqualified if they did. Both Johnson and Jacobs continued to fight in vain to try to have a winner but as Windsor and Wilson did another number on Johnson on the outside Jacobs had seen enough and dove through the ropes, taking out both assailants. Jacobs got back in and went for a bicycle kick but Johnson ducked and connected with an Energy Shot. Z had no choice but to count the inevitable 3.
Johnson knew that now that the match was over, there was nothing keeping him from getting his hands on Johnny Z. He stalked a cowering Z but before he could do any damage Windsor blasted him from behind with a steel briefcase. Windsor then did the same to Jacobs as Johnson tried to make it to his feet and was drilled by Z's Big Boot in the Corner. The entire main event was nothing but an example of the depths to which Impact Inc will sink to get what they want. But things won't be so easy for Impact Inc when next week at Redemption the other co-commissioner The #1 Shawn McHale will be back in the Impact Arena to make sure things are fair when Johnny Z defends his IZW Championship against Jermaine Johnson in a No Holds Barred match. McHale himself will be in action as well as he takes on Mark Wilson in a Street Fight. Also the tag team champions go head to head, the Impact Division Championship 5-way match, The Bronze Bull goes against Jeff Wolfenbarger and much more. There's almost too much action to mention but the one thing you NEED to know is that you do NOT want to miss September 20th when IZW Presents Redemption.
© 2004-2016 Impact Zone Wrestling. All Rights Reserved.
Website designed and maintained by Wesley Bradfield