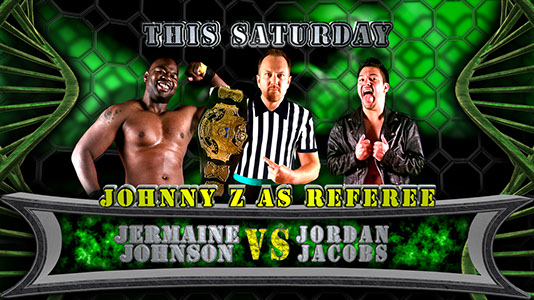 Just two weeks removed from pinning Johnny Z and becoming IZW Champion only to have it ripped away from him due to a fast count, Jordan Jacobs would once again step into the ring with the Natural Born Leader in a huge, action-packed edition of Adrenaline.
The winner of the main event would move on to Redemption September 20th to face the man who would start off Adrenaline, "The Leader of the Hype Section" Jermaine Johnson. Johnson would tag with one-half of the IZW Tag Team Champions Kevin Morgan to take on Impact Inc's Team Bull. Johnson and Morgan worked well together, over-powering IZW Wrestler and hitting a double stalling suplex on The Bronze Bull. Once Bobby was able to distract the referee and allow a two-on-one situation with Morgan, Team Bull finally took control. Team Bull worked over the arm of the Image of Fear, trying their best to take away the power of the big man. Team Bull showed why they are a finely tuned unit as they systematically targeted Morgan's arm and kept him far away from Johnson. It looked like curtains for the Image of Fear as The Bronze Bull hoisted him up for Greetings from Mt. Olympus but Morgan slid off his back and shoved him into Starr and fell backwards into the tag to Johnson. Jermaine sprang into action hitting a flying drop kick and a pair of clotheslines that dropped both Bulls. Neil snatched Johnson up again looking for Greetings but Johnson flipped to his feet, drilled Neil with a kick to the head. Starr jumped at Johnson but was intercepted by Morgan with The Moment of Fear. the Bronze Bull got to his feet just in time to get planted with an ES2 by Johnson who picked up the win for his team. Johnson has huge momentum going into Redemption and may be the odds on favorite to win the main event regardless of who he faces.
Angel Camacho graced us with his Big, Bad and Sexy presence as he took on the returning Midnite Rider. Rider hasn't been the same since his former partner Soto Miyagi stole his signature broom but he would look to regain his stature in IZW by taking on the Puerto Rican Powerhouse. Or at least that may have been his plan; before the bell even rang Camacho avalanched him in the corner, then stalked him and dropped him with a Samoan Drop. Then Camacho climbed to the top rope and dropped all 400 lbs of his girth on top of the wily veteran to get the decisive and impressive win. Camacho had more business to take care of though and grabbed the microphone. He addressed the man who took his Impact Division Championship, Drake Gallows. He challenged Gallows to come fight him right then. It didn't take long for The Urban Legend to answer his challenge but as Gallows made his way down the ramp, his opponent at Redemption, Randy Price jumped him from behind. He drove Gallows into the ring apron, slammed him on the concrete floor and delivered a frog splash from the guardrail. If that wasn't enough, he then rolled Gallows into the ring where he received the Puerto Rican Plunge from Big, Bad and Sexy. This was seriously bad news for Gallows as not only will he be defending his Impact Division title at Redemption but he also had a match scheduled for later that night with Damon Windsor.
In a very special debate hosted by IZW's own "It's Jessy" Shawn McHale would go brain-to-brain with Mark Wilson. The two co-commissioners would one-up each other. Wilson bragged about making the Tag Team Championship match at Redemption between Damon Windsor and Kevin Morgan while McHale made a match of his own, making the Impact Division Championship match at Redemption a 5-Way with Drake Gallows, Randy Price, O'Malley, Angel Camacho and Sheepy O'Brien. The debate continued with a discussion of whether twinkies or butterscotch was better and the two men almost came to blows. Mark Wilson's lewd comments incensed the crowd and McHale promised that in the street fight at Redemption, he would whoop Mark Wilson for the entire IZW World.
Next up was the man who will face the Bronze Bull at Redemption and the man who dumped an entire bucket of vomit on Bull's head two weeks ago, Jeff Wolfenbarger. He would take on Randy Price in singles competition. Price knows that it's easy to underestimate the skill and cunning of Wolfenbarger so he was very careful to control the pace and tempo of the match. Upon hitting a double-knee gutbuster, Price focused his attack on the midsection of the Attorney. Wolfenbarger refused to give up control, continuing to fight with sudden bursts of offense, but Price weathered the offense and dropped Wolfenbarger again. Price went to the top rope but couldn't connect with a frog splash. Upon losing his advantage, Price began to panic, he charged in and missed a splash in the corner. Wolfenbarger capitalized and connected with a version of Johnny Z's Final Impact neckbreaker and got the pin on Price. Using a signature move of his brother's to win the match seems like just another way that Wolfenbarger intends to make himself the constant thorn in the side of the Natural Born Leader.
Damon Windsor would be the next man to step into the ring, as he was set to take on Drake Gallows in a singles match. He informed the IZW World that since Gallows was attacked earlier and may not be able to compete in the singles match that Mark Wilson had made the match not only an Impact Rules match but also an Impact Division Championship match. This obvious abuse of power by Wilson was yet another attempt to sway power into the hands of Impact Inc. Windsor immediately focused on the injured ribs of Gallows and took him to the outside where he dropped Gallows ribs-first on the guardrail and swung him like a baseball bat into the steel ring post. Gallows did his best to defend the onslaught, sending Windsor into the barricade and fighting him up onto the entrance ramp. The two battled over into the Lights Out Lounge set and Gallows caught Windsor with a yakuza kick that knocked him all the way to the arena floor. Gallows saw an opening and poured on the offense as Windsor was trapped between the guardrail and the stage. They fought back to the stage and Gallows escaped an attempt at a chokeslam and rushed Big Business but Windsor side-stepped the Impact Division Champion and sent him flying off the stage and into the barricade. Gallows clutched his reinjured ribs and gasped for air as Windsor moved in for the kill but as it looked like Windsor was about to become a double-champion the Impact Arena went black. When the lights returned, Kevin Morgan was in the ring but Windsor was not, he was well aware of Morgan's tactics and had retreated to the ramp. However, he had forgotten about Gallows, who through him back into the ring where he would be nearly cut in half by a spear from Morgan. Gallows followed up with his Bangarang Moonsault and got the win. It's obvious that Windsor wants no part of his IZW Tag Team Champion partner Kevin Morgan but he'll have no choice but to face him when they go 1-on-1 at Redemption to see who will hold both tag belts.
Now it was time for the main event. In a rematch from two week prior "Lights Out" Jordan Jacobs would challenge the self-proclaimed Savior of Wrestling and the IZW Champion Johnny Z. After the controversy in their previous match it was stipulated that in this match if Johnny Z were to get himself disqualified he would lose the IZW Championship. We would finally have a clear-cut winner and find out who would face Jermaine Johnson at Redemption.
Jacobs made it obvious he was there to win, immediately trying four different pinning combinations, then when Z went to the outside to slow the action down, Jacobs through caution to the wind and connected with a suicide dive and a flipping dive from the top rope. Z scrambled back inside and stopped Jacobs with a short knee and a boot to the temple. But Jacobs swayed things back in his favor and caught Z in a tilt-a-whirl arm bar. Z escaped and dumped Jacobs to the outside. As Jacobs returned to the ring Z caught him with a wicked knee to the head, followed by several more. Z then set his sights on the wind of Jacobs, slapping on a vice-like rear chin lock. Jacobs tried to defend it and even escaped it but a DDT by Z put him right back in the grips of the champion. The resiliency of the challenger really showed as he fought out of the hold and connected with three running double-knee attacks and a giant bicycle kick. Z wasn't done yet thought and kicked out at 2. Jordan went for the Light Switch but caught a boot to the face from Z. The champion climbed the top rope a dropped a huge leg across the face of Jacobs but the challenger still wouldn't stay down. Lights Out evaded a superplex and a bulldog to take Z off his game plan. He nailed the Natural Born Leader with a dropkick, a leg lariat, a double-knee facebuster all from the top rope. Z kicked out of a pin attempt but looked to be nearly finished. Jacobs hopped up to the 2nd rope and measured the champion for the Light Switch. He leapt off but Z caught him with an overhead belly-to-belly suplex which stunned Jacobs. As Jacobs pulled himself to his feet Z sprinted into the ropes and drilled Jacobs with a Big Boot in the Corner. Jacobs fell to the canvas and Z covered him to retain the IZW Championship. Though Jacobs may have come up short, no one can ever say he gave anything less than his all. He was within an eyelash of achieving his life-long dream but on this day Johnny Z was just the better man.
This would have been a clean decent victory for Johnny Z and that seemed to be too noble for The Natural Born Leader as he and the rest of Impact Inc continued to pummel Jacobs. This brought out Jermaine Johnson, Kevin Morgan and Jeff Wolfenbarger to run off the assailants. An incensed Mark Wilson grabbed a microphone and screeched at Jermaine Johnson that if he wanted action so bad, he would get it. He would face his best friend Jordan Jacobs in a match to determine the #1 contender to the IZW Championship in a special bonus edition of IZW Adrenaline next week! The Leader of the Hype Section was supposed to have two weeks to prepare for his title shot against Johnny Z but now he will only have one if he even keeps his shot. Next week two best friends will do battle to see which one of them gets their shot at Redemption.
© 2004-2016 Impact Zone Wrestling. All Rights Reserved.
Website designed and maintained by Wesley Bradfield