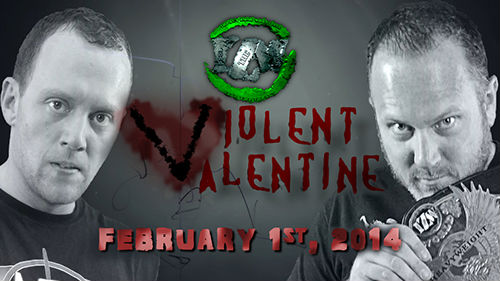 All of the talking, plotting and underhanded maneuvering is over. "Violent Valentine", the first IZW iPPV of 2014 is at the doorstep. Legacies will be cemented in the annuals of wrestling history as every IZW title is on the line and each wrestler will be looking to dish out heaping amounts of pain and agony against their opponent.
For the IZW Title, IZW Champion "The Natural Born Leader & Savior of Wrestling" Johnny Z takes on #1 Contender "Bad" Brad Michaels. Z has held the title for the better part of a year now and has conquered every foe in his path. But Michaels is a different kind of opponent. He is cut from the same rotten cloth as the Champion Johnny Z. Whereas Z has been used to battling foes with a good conscious like Damon Windsor, Copycat and Double D, Michaels has shown the ability to end careers in the ring and enjoy every second of it. Michaels will not hesitate to lift Z up for the Hall of Fame Piledriver, he will also use every dirty trick in the book if it will get him the IZW title. This is a case of two rotten apples squaring off against one another. Michaels earned the #1 contender spot fair and square but that won't be enough. His date with destiny is signed and sealed. Will Michaels be able to deliver and win the IZW Title for the first time in his storied career or will Johnny Z add another notch in his belt and make Michaels just another victim?
In a Lumberjack Strap Match, "The Captain of the Force" Double D battles "The Image of Fear" Kevin Morgan. D has been fighting tooth and nail to get back into the title picture and he will get that chance at "Coronation" as he has already been booked in the Impact Chamber Match that will feature 10 IZW Superstars competing for the IZW Title. But before Double D can make it to March 15, he has to survive Morgan in a Lumberjack Strap Match. Morgan has vowed to end Double D's career so that he can never wrestle again or be a thorn in the side of Impact Elite. Morgan got the festivities started early when he peeled the skin off D's back on the January 25 Edition of "IZW Adrenaline" as D was helpless and handcuffed to the rope as Morgan throttled him over and over again with a leather strap. Giving up close to a foot in height and over 100 lb in weight, it will take a miracle for Double D to come out of the match able to stand on his own two feet. A victory against Morgan in this situation is almost too much to ask.
IZW Queen Miss Diss Lexia defends her title against the always imposing and dangerous Erica. Erica lost the Queen's Crown in 2013 and has been waiting for this opportunity to get her hands back on MDL when all the chips are down once again. MDL has proven herself a worthy and deserving champion as she has held the Crown with honor from day one. But this will be MDL's biggest challenge as she will be facing an irate Erica who has dropped multiple pinfalls to MDL in the last several months. Erica is known for her fantastic amateur wrestling pedigree while MDL can flatten any opponent with a variety of suplexes. Both women's strong points are going to come into play and it will be the wrestler with the bigger heart that will be able to raise a shoulder at the last second or hit a move no one is expecting that will lead to the 1-2-3.
IZW Tag Team Champions, What Wrestling Should Be ("Larger Than Life" Jermaine Johnson and "Lights Out" Jordan Jacobs" battle the KC Wolves (Graham Bell & Luke Langley). The KC Wolves are almost a mirror image of WWSB when it comes to athleticism and wrestling. These four contestants have promised to bring their A game and it's highly likely that this bout will steal the show. Both teams have excellent aerial ability combined with solid mat wrestling. And the cardio of each wrestler is second to none so expect a furious pace from bell to bell. But what is going to be the deciding factor? Will it be WWSB's experience advantage or will the Wolves rise to the occasion and dethrone the best tag team in the business? Johnson is wrestling at an all-time high, as Jacobs steps into the ring for the first time in months after being fully healed from a shoulder injury. The KC Wolves are a well-oiled machine at this point and have their sights focused on the gold. With everything so even, look for the third member of WWSB, Mark Wilson, to make his presence known. The KC Wolves have to already be counting on that and they should have several contingency plans put in place if and when Wilson tries to get involved.
Impact Division Champion Angel Camacho battles "The Urban Legend" Drake Gallows in an Impact Rules Match in what is sure to be a jaw-dropping bout. Camacho and Gallows were neck and neck last year for Newcomer of the Year, an award which Gallows won. But the real prize for these two is the IZW Impact Division Championship. Both men are unpredictable in the ring, but the edge goes to Gallows as he is far and away the craziest competitor in IZW. Camacho brings a plethora of suplexes mixed with underrated athleticism that allows him to fire off precision-like kicks in to the bout. Both men are hungry and determined to keep their momentum from 2013 rolling, but there will be only one man that walks out of the Impact Arena as the Impact Division Champion. The fact that this is an Impact Rules Match where anything goes has to be an advantage for the wild man Gallows. But will his overzealousness during the match be his downfall? Don't blink!
And just added by Co-Commissioner Shawn McHale, it will be the newly created tag team The Brothers Righteous (Striker & O'Malley) taking on "Big Business" Damon Windsor & Copycat. TBR have gone over the deep end mentally, but they believe they have the high moral ground and are going to try and make examples out of Windsor and Copycat. Windsor and Copycat have been wrestling as singles for some time and the story of this match will be how well they work together as a team because Striker and O'Malley are going to bring it.
Don't miss "Violent Valentine", a ruthless event where passions will run high and bodies will be broken below. Nobody is safe from the impending doom as the hottest promotion on the circuit goes for broke and leaves everything on the line! Witness all of the wrestling, high flying, feuds and rivalries in HD on GFL.tv on February 1!
Better yet, if you are near Southwestern Oklahoma, nothing beats watching IZW live from the Impact Arena located at 1009 SW F Ave. in Lawton, Oklahoma 73501.
No other wrestling organization on the Independent landscape carves out as much new content as IZW. Developed and cultivated in the Sooner State, IZW is second to none. Be there for every bump, bruise and jaw-dropping moment all of which have made IZW recognized around the world.
Website: www.izwrestling.com
Twitter: https://twitter.com/IZWWORLD
YouTube Channel: www.youtube.com/IZWOklahoma
Facebook: https://www.facebook.com/ImpactZoneWrestling
© 2004-2016 Impact Zone Wrestling. All Rights Reserved.
Website designed and maintained by Wesley Bradfield