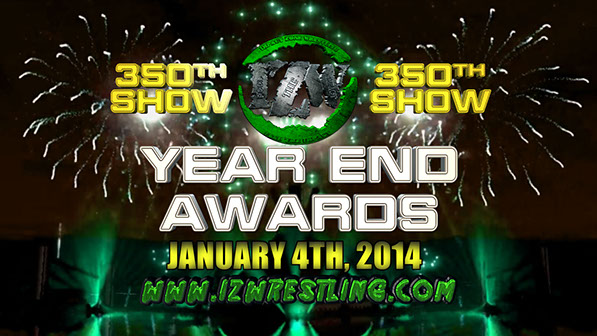 The first episode of 2014 kicks off with the January 4 special edition of "IZW Adrenaline" featuring the 350th show plus the 2013 Year End Awards! You can expect fireworks from the winners and losers as these awards put the final nail in the coffin of 2013. For some in the IZW locker room, 2014 couldn't come fast enough, but for others, 2013 was a year when history was made and legacies where cemented. Relive all the famous and infamous happenings inside the Impact Arena and get ready to create some new memories as well. The votes have been cast and the numbers have been tallied. IZW has its deepest roster ever, so you can bet there will be plenty of razor thin decisions that are bound to create some ecstatic winners and even more sore losers. There are multiple categories with 5 entrants in each category.
MATCH OF THE YEAR
Johnny Z VS Damon Windsor – Casket Match (11/2/13)
Double D VS Brandon Bishop (9-14-13)
Angel Blue VS Erica – Dog Collar Match (9-14-13)
Jordan Jacobs VS IZW Wrestler – Impact Player of the Year Ladder Match Finals (5-11-13)
Jermaine Johnson VS Damien Morte TLC Match (2-16-13)
MOST HATED
Johnny Z
Madam Commissioner Erica
Brad Michaels
Angel Camacho
Jermaine Johnson
SUPERSTAR OF THE YEAR
Johnny Z
Double D
The Convict
Damon Windsor
Copycat
MOST POPULAR
Damon Windsor
Double D
Copycat
Brandon Bishop
Miss Diss Lexia
TAG TEAM OF THE YEAR
Team Bull
What Wrestling Should Be
Birds of Prey
Old School Suckas
Team Remix
MOMENT OF THE YEAR
Miss Diss Lexia wins the Queen's Crown (11-2-13)
Copycat wins the Monster's Bash Battle Royal (11-2-13)
Brandon Bishop's return (6-29-13)
Brad Michaels sends Randy Price out in an ambulance (3-30-13)
Johnny Z turns on Double D (3-23-13)
NEWCOMER OF THE YEAR
Angel Camacho
Drake Gallows
KC Wolves
Brandon Bishop
Striker
FEUD OF THE YEAR
Johnny Z VS Damon Windsor
WWSB VS Team Bull
Kevin Morgan VS Drake Gallows
Randy Price VS Brad Michaels
Miss Diss Lexia VS Erica VS Angel Blue
Scheduled matches for this huge show include: "The Brass Bull" IZW Wrestler VS The Convict, #1 Contender "Bad" Brad Michaels VS "the Urban Legend" Drake Gallows, "The Forgotten Champion" Copycat VS "The Image of Fear" Kevin Morgan, "Larger Than Life" Jermaine Johnson VS "Big Business" Damon Windsor and finally, in a Mixed Tag Team Match – IZW Champion "The Natural Born Leader" Johnny Z & Madam Co-Commissioner Erica VS "The Captain of the Force" Double D & Queen's Crown Champion Miss Diss Lexia. Don't miss a second of this historic event!
Get your shot of adrenaline with "IZW Adrenaline" every Saturday night at 8pm E/7pm C on GFL.tv. No other wrestling organization on the Independent landscape carves out as much new content as IZW. Developed and cultivated in the Sooner State, IZW is second to none. Be there for every bump, bruise and jaw-dropping moment all of which have made IZW recognized around the world.
© 2004-2016 Impact Zone Wrestling. All Rights Reserved.
Website designed and maintained by Wesley Bradfield